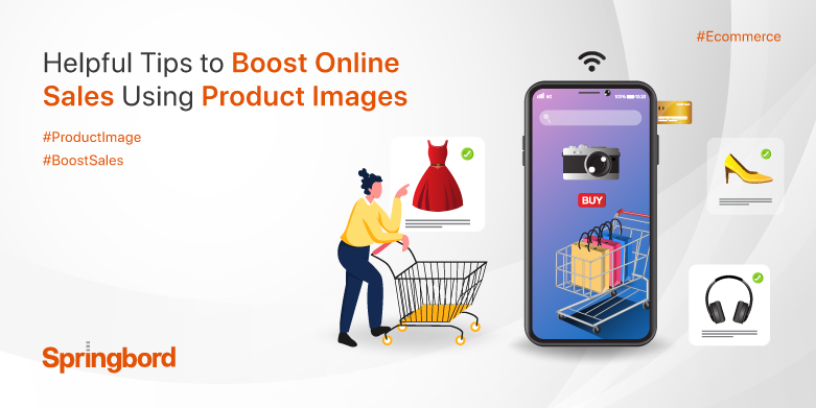 Read time

3

min
For any eCommerce business, product images and text are crucial. They play a vital role in understanding the product better and convincing your customers to buy the product. Generally, customers tend to buy products from a store that provides clear, detailed, and personalized images. A good product picture will never fail to attract buyers. It also offers great product exposure to your customers and makes your website look appealing.
Many online buyers prefer images over text. So it is important to present them with high-quality images in the right size and format. By doing so, your customers would be more interested in your products in no time. This will help your products gain more views and conversions. Now let us see the ways to improve product images, which in turn will boost sales and significant ROI.
Represent actual images
For a professional product photographer, capturing images as accurately as possible is imperative. A proper image provides your buyers with more details and easily attracts them. So make sure you have access to the equipment to achieve higher accuracy and conversion. Real-life photography is one better way to represent images, which gives your online visitors or potential buyers the actual look and feel of the product. You shall use a photo editing and retouching service to show the actual color and size of the product but ensure it doesn't affect the originality.
Use contextual images
Contextual images are a great source of attraction, and they help in conversions. That is why it is essential to use real-life images, which allows customers to engage with the product and gives them a feeling that they are actually using the product. Product photoshoots can seem a big task, but you can avail online product photography services that take care of everything, starting from arranging models and selecting the location to capture your products, all in a cost-effective way.
Choose the right file format
As you know, images come in various sizes and file formats but identifying the one that works the best is important. Choosing the right size and file format will help customers engage with the product. Images should have enough resolution. Bigger the size, the better the engagement! Keep in mind that the size of the image can impact the click-through rate. Even a small, minor change in the right way could help inflate sales. Opt for web-friendly image formats and images with higher resolution.
Use stock photos with great care
Undoubtedly, stock photos are the go-to choice when it to comes to better represent your images. But use them with great care as stock images can look inappropriate if not packed well. It is wise to choose images that match your branding, website, and, most importantly, the product. Make sure you use unique images while avoiding generic ones.
Show product from different angles
Images, when shown from different angles, enable the customer to get the actual look and feel of the product and help boost online sales as well. Try to display your product from various angles that will actually convince the customer to buy the product and gives more information about the item. 360-degree and 3D photos are the trend today. 3D photos can seem expensive but will help inflate sales and pay off in the end.
Show variations
To bring uniqueness to your product pages, try adding variations by inserting charts, graphs, and graphics in the image catalog. Get ideas from other reputed and reliable sources while adding info and graphics. Include additional and relevant info and visuals that every audience would expect from you.
Visitors are your key target
Remember, your customers are your prime target. The actions that you carry out on the product pages are to convince them and gain their attention. You are free to use as many images as you like but ensure they are clean and crystal-clear. Focus on the product and avoid redundant images and graphics. By doing so, you are sure to keep your customers hooked to your product pages and gain high returns on investment.
Conclusion
Product images can do wonders to your eCommerce business if used in the right way. Attract your customers by making product photos look as good as possible and see your business sore. A product image that creates a good impression is sure to win customers' hearts and will scale up your business. No matter which eCommerce industry you belong to, make use of clear, high-quality images and stay on top of the product listing. We at Springbord offer comprehensive image editing services that will not only look good on your product page but also take your business to great heights.