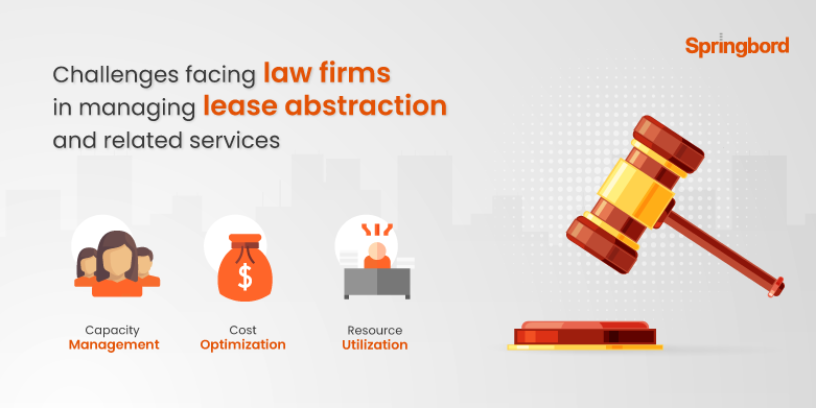 Read time

2

min
Commercial leasing is the backbone of any business which is of course regulated by detailed contracts. Depending on the size of the firm and type of business, these lease contracts vary in type and volume cover extensive and various aspects of the contractual business engagement.
Considering the dynamic and volatile nature of the commercial lease, law firms specializing in providing leasing solutions play a key role in ensuring contractual obligations are met and help develop sound lease management practices. Given the changing and shifting landscape of commercial leasing law firms are continuously strengthening their focus on tenant and landlord representation and creating specialization across retail leasing, asset management, and others. As they continue to do so they are increasingly looking for better ways to summarize lease contracts in order to simplify the process of analysis and review. However, here's what thwarting their effort in streamlining the lease abstraction/back-office processes.

Capacity management
While bigger law firms may be able to set up a dedicated lease management team in-house, it presents a significant financial and resource management challenge for medium and small-sized firms. But, given the nature and scale of lease contracts, lease abstraction is becoming a tedious, time-consuming, and expensive process. Managing this capacity of work requires dedicated resources who are trained to read through these documents, identify relevant provisions as per requirements and summarize in an easy-to-understand format.

Cost optimization
Cost containment remains a key focus for every business and firm. Lease abstraction is an essential service when it comes to due diligence, asset management, and contract analysis. When done in-house, seeing as how burdensome this process is, it drains precious man-hours, adding to the overall cost of transaction and client management.

Resource utilization
Lastly, law firms charge by the hour, deciding to manage these ancillary services like lease abstraction, document classification, data management, and other such processes only results in poor resource management. It also takes away the focus from core business issues and processes, impacting the quality of overall operations.
Springbord has been working with some of the leading companies across the globe helping them with lease abstraction, lease data management, and CAM audit and reconciliation. Our dedicated team supports real estate owners, property management companies, and even healthcare and retail sector players in efficiently managing critical data of their lease contracts and other similar documents.