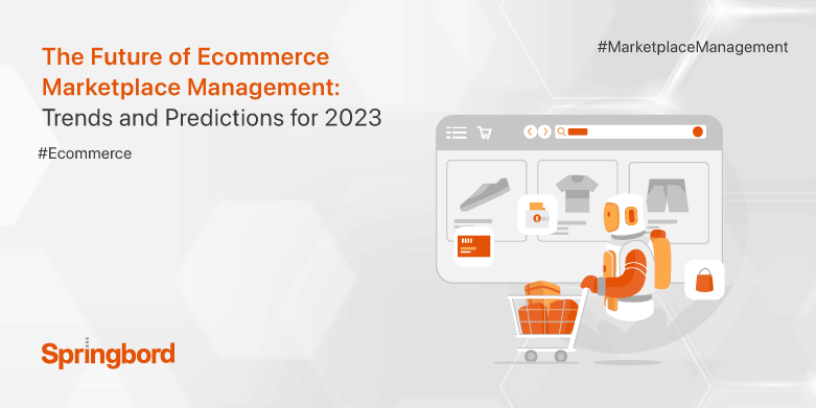 Read time

7

min
The necessity for efficient Ecommerce administration has grown in tandem with the booming e-commerce sector of the modern economy. Keeping abreast of developments and forecasts in this area is crucial as we approach 2023.
This article will explore The Future of Ecommerce Marketplace Management, focusing on new developments and offering predictions for the years ahead. This article will equip you with the knowledge you need to succeed in the future of -commerce management.
Trends in E-commerce Marketplace Management
The future of Ecommerce Marketplace Management will be marked by various trends that will shape the sector and revolutionize how businesses engage with their customers. As technology continues to evolve, organizations that can keep ahead of the curve will be well-positioned to prosper in a market that is undergoing fast change.
Increased adoption of AI and machine learning in E-commerce Marketplace Management
Artificial intelligence (AI) and machine learning are altering the way e-commerce businesses operate. Product recommendations, targeted promotions, and pertinent content can all be derived from a customer's browsing and purchasing history with the help of AI-powered algorithms.
This can boost sales, decrease the number of customers who abandon their shopping carts, and enhance repeat business.
Chatbots powered by AI are also gaining traction in the e-commerce back end. Chatbots can assist organizations in automating customer support interactions, such as answering product-related inquiries, addressing complaints, and processing refunds. This can lessen the workload of customer support employees and enhance response times.
Supply chain optimization is another area where AI is being used in e-commerce management. Machine learning algorithms can assess real-time data from inventory systems, transportation networks, and customer demand to improve product availability, delivery times, and shipping costs.
Personalization and customization of the customer experience
In a world where consumers have many choices, personalization has become a key differentiator for ecommerce businesses. Businesses may boost customer engagement, brand loyalty, and sales by providing a more personalized shopping experience.
Personalization can take various forms, including individualized product recommendations, targeted advertising, and customized promotions.
Businesses may better serve their consumers by targeting them with relevant and personalised experiences thanks to advanced analytics technologies that let them divide customers into distinct groups based on their tastes, habits, and past purchases.
In addition to personalization, customization is becoming a significant trend in e-commerce marketplace management. Companies may now cater to their clients' individualised preferences because of the proliferation of technology like 3D printing and on-demand production. This can help businesses differentiate themselves from competitors and build stronger relationships with customers.
With the rise of social media, e-commerce companies can more effectively connect with and serve their client base. The development of social commerce has allowed companies to sell their wares without requiring their clients to leave the social media site.
Social commerce is particularly popular among younger generations who are more likely to discover products through social media than through traditional advertising channels. Businesses may reach the rising demographic of internet users active on social media by incorporating social commerce into their online storefronts.
Mobile commerce and the importance of responsive design
With more and more consumers utilising their mobile devices to shop online, mobile commerce has become an integral aspect of ecommerce marketplace management. Mobile commerce encompasses mobile-optimised websites and smartphone apps, which can give a more streamlined and personalised shopping experience.
Regarding mobile commerce, it cannot be easy to create a consistent buying experience across different devices and display sizes. To accommodate users across a wide range of devices, firms must adopt responsive design strategies.
Use of AR and VR in the Ecommerce experience
The use of AR and VR in e-commerce operations management is gaining traction. While virtual reality (VR) can offer a more immersive shopping experience, augmented reality (AR) allows buyers to envision things in their real-world environment before purchasing.
The inability of online shoppers to try out merchandise in person is a major barrier to sales, but AR and VR are helping to change that. By providing a more engaging and dynamic shopping experience, businesses may boost consumer happiness and lower the risk of returns.
The growing significance of sustainability and eco-friendliness
Online retailers are beginning to recognise the importance of sustainability and environmental friendliness to their customer base. To lessen their impact on the planet, many companies are switching to carbon-neutral shipping methods and investing in eco-friendly packaging.
Businesses that emphasise sustainability and eco-friendliness not only lessen their negative effects on the environment but also attract the attention of an increasingly vocal demographic of shoppers.
Corporations may stand out and win over consumers who value ethical and sustainable consumption by highlighting their commitment to sustainability in their branding and marketing.
Circular economy models, which place a premium on the reuse and recycling of products, are one example of a new business model being explored by some companies. These models have the potential to not only lessen an organisation's negative environmental and wasteful effects, but also to open up fresh financial opportunities.
Predictions for the Future of Ecommerce Marketplace Management
The world of e-commerce is always changing, which means that companies need to be flexible in order to meet the needs of their customers. There are a few major predictions for the future of ecommerce marketplace management that companies should bear in mind as they look ahead.
Continued Growth of Ecommerce Market
The continued expansion of the market is one of the most reliable forecasts for the future of ecommerce marketplace management. The ecommerce industry has expanded rapidly in recent years as more and more people prefer to do their shopping online.
The growth of e-commerce is predicted to continue; by 2023, some analysts estimate that it will account for almost 20% of all retail sales. To compete successfully in the ecommerce market, businesses must adopt new technology and keep up with emerging trends.
Increased Competition and Need for Differentiation
Competition is expected to rise as the e-commerce business expands. Businesses need to differentiate themselves from the competition if they want to succeed. Advertising and marketing can help spread the word about your company and its offerings to a wider audience.
Integration of More Emerging Technologies
Businesses that want to remain competitive in the modern market must adapt to the ever-changing technological landscape. This may require adopting cutting-edge technology like AI, VR/AR, or voice recognition in the e-commerce sector. With the help of these innovations, stores will be able to give customers a more tailored and exciting purchasing experience.
Expansion of Social Commerce and Influencer Marketing
Businesses have recognised the importance of social media in people's daily lives. Social commerce, in which users make purchases via websites like Instagram and Facebook, is predicted to grow in popularity in the coming years. The use of social media influencers to spread the word about a company's wares will also remain a significant element of the e-commerce scene.
Greater Focus on Customer Retention and Loyalty
Because of the high cost of customer acquisition, online retailers that hope to thrive must place a premium on keeping their current clientele happy. Spending money on loyalty programmes, focusing on excellent customer service, or tailoring the shopping experience to each individual consumer are all ways to achieve this goal.
Importance of Agility and Adaptability in a Rapidly Changing Market
The necessity of agility and adaptation is perhaps the most significant forecast for the future of ecommerce marketplace management. To be successful in today's ever-evolving e-commerce landscape, companies need the flexibility to quickly adapt to emerging market trends and technological breakthroughs.
This may include trying new advertising strategies, updating company procedures, or acquiring cutting-edge equipment. Only the most flexible companies will survive and prosper in today's intensely competitive e-commerce market.
Challenges for Ecommerce Marketplace Management in 2023
In 2023, ecommerce managers will face a wide variety of difficult issues. E-commerce enterprises can maintain a competitive edge and sustain future growth by allocating resources towards data management and analytics tools; emphasising security and privacy measures; adopting new technologies and innovations; and attracting and retaining qualified professionals.
Increasing complexity of managing data and analytics
It can be difficult for firms to manage and understand the growing amounts of data produced by e-commerce transactions. This information pertains to inventory management and delivery logistics, as well as customer behaviour, preferences, and purchasing behaviours.
To effectively make sense of this data and use it to make educated business decisions, e-commerce management will need to invest in comprehensive data management and analytics solutions.
Difficulty of maintaining a seamless omnichannel experience
Online, mobile and in-store buying must all function in concert to meet the high standards of today's consumers. Management of online stores must guarantee that all of these channels are compatible with one another, allowing customers to switch between them without any friction. As the number of channels and touchpoints in use increases, this can become more difficult.
Security and privacy concerns in Ecommerce transactions
The danger of cyber attacks and data breaches increases along with the popularity of online shopping. The management of an online store needs to put the security and privacy of their customers' and the store's information first.
Strong authentication and encryption procedures must be implemented, and security systems must be tested and updated frequently to keep up with ever-evolving threats.
Need for continuous innovation and investment in technology
Management in the e-commerce sector must be open to new ideas and technologies if they want to stay ahead of the curve in a sector that is constantly changing. To do so, they must invest in cutting-edge e-commerce platforms and software and investigate cutting-edge technologies like AI, ML, and AR to enhance the customer experience.
Recruitment and retention of skilled Ecommerce professionals
E-commerce management needs to find a way to attract and keep employees with the expertise to handle the many moving parts of an online store. Experts in data management and analytics, as well as people who can steer e-commerce advertising and sales, fall into this category.
Companies may need to provide attractive compensation and benefits packages to qualified ecommerce workers as the demand for their services rises.
There are many fascinating developments and forecasts for 2023 in the field of e-commerce management. To survive in the increasingly competitive e-commerce market, companies must adopt new technology, tailor their offerings to each individual customer, prioritise social and environmental responsibility, and strengthen their bonds with repeat buyers.
There are, however, obstacles that must be overcome, such as the need to manage data and analytics, keep the omnichannel experience consistent, and deal with security and privacy issues.
To thrive in this fast-moving industry, companies need to be quick on their feet, open to new ideas, and willing to invest in cutting-edge technology and in the hiring and training of talented e-commerce workers. Companies that are able to adapt and innovate in the field of ecommerce marketplace management will be in a strong position to succeed in the year 2023 and beyond.