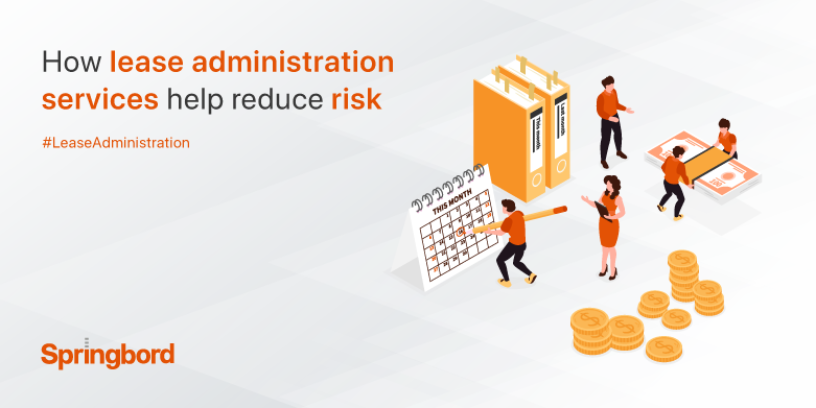 Read time

3

min
Lease administration is the management of the agreement in the real estate field. It includes administering all the tasks that are listed in the company's lease portfolio. The tasks consist of various jobs like reporting, coordinating between stakeholders, managing documents, managing rent, and several administrative activities. Leases might vary from property to property; hence, every different lease must be administered accordingly. Lease management responsibilities are usually divided across several departments or are placed under one individual who is responsible for managing the entire contract.
Why is lease administration required?
The lease provides a legal agreement and a ground to the parties for cooperation. The lease administration makes sure that both the parties are running according to the contract, enjoying the benefits, and all the assets are controlled as per the agreement. Lease management also helps in reducing the costs of the parties involved.
Here are a few points why lease administration is required
To track the upcoming renewals, operating expenses and updating lease
Payments, calculation of assets and liabilities, generating reports and recording journal entries
For negotiating what includes in lease and lease length plus the structure of lease.
What are the challenges faced by lease administration?
Negotiating lease renewals
Accessing data accurately and efficiently
Building transparent communication rules
Accounting for tenant's improvement allowance
How lease administration services can help reduce risk?
Reduces mistakes and highlights critical issues:
When you get lease administration services it helps in managing a huge amount of process that goes into managing the lease each day. Often when we do things on our own or using old manual it's highly likely that we make errors and it could cause friction between the parties involved. With a management service that handles lease administration, things can be done error-free with professionalism which helps you save time and conflicts. The accuracy provided by the administration service is unmatched, they make you aware of mistakes, deadlines, alert about important dates, provide expert's view, and much more.
Reduces the burden of the admin and provides full visibility of financial state
Your admins are often burdened with several leases to manage and it ends up taking up several weeks to get detailed visibility of your financial state which is just a waste of time. Lease administration services break down complex lease processes and save you the nightmare. A management service takes accounting into their hands, giving full visibility of the financial health in your business which in return allows you to make smarter decisions for your business.
Helps make lease changes in emergency and uncertain times
During emergencies, changes of the lease can be challenging for the team responsible as there are numerous things to be taken care of, even if one change occurs it takes quite some time to make both sides aware of the scenario. Lease administration services act as a lifeguard in such cases by jumping in and saving you from all the burden that daunts you when sudden changes occur. The modifications may include lease terms, lease terminations, impairments, payment issues, changes in charges, etc, taking care of all these at once or just one of the problems takes up loads of energy and time that can be left to the administration services and you can enjoy transparency and accuracy.
Helps in following accounting standards accurately
Accounting standards are known to be always being modified, new rules, etc. Anyone can find it hectic to keep up with these changes but with a lease management service complying with the accounting standards can be automatic. Make sure to find a service provider that has the ability to enable the accounting standards which will reduce the risk of failing to act according to their changes.
Finding the right kind of service provider for your type of business can be overwhelming with so many options in the market today. A right fit for your business will understand your structure, size, budget, and all the features that help in the betterment of the business.
Springbord recognizes the complexities of lease administration, hence, we manage the lease with brilliant strategies. We provide data management, optimize cost, optimize portfolio management, professional advice, and remain flexible to meet your requirements. We also stay updated with all the accounting standard updates, lease updates, etc. Here at Springbord we have the quality infrastructure to meet the demands of all kinds of leases and we provide full support services to property managers, commercial real estate owners, retail managers, and (REIT) real estate investment trusts.
In order to learn more about our lease administration services click here and find out what we offer.