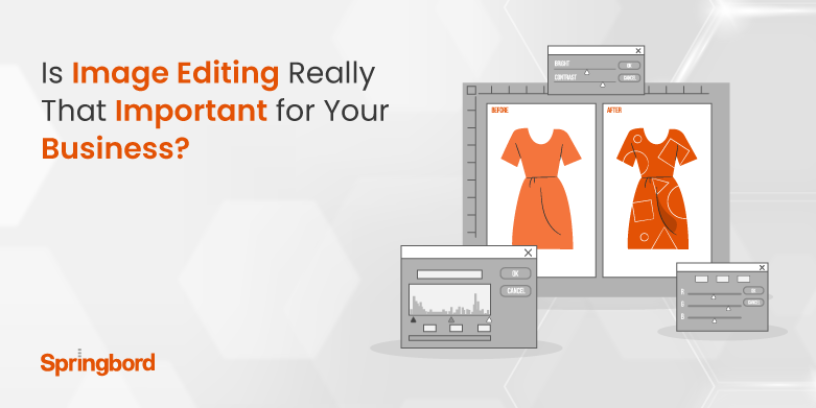 Read time

3

min
Technology is revolutionizing and evolving expeditiously. Today, being digital is the new status quo. Right from buying groceries, hiring cabs, to even buying a house, everything is virtual and in the palm of your hands. The very essence of Ecommerce today is one very simple aspect; You see something you like, then you buy it. Nowadays, nobody has got the time to go and actually have a look and feel of what they want before they actually buy it. Shoppers surf the net, have a quick glance at the product description, and the next thing they do is look at the product image. If the product image looks and feels real, is aesthetic, appeals to their minds, and satisfies their intrigue, they make the purchase. So, we can safely say that now is the time for businesses, regardless of their type or form, to up their game in the digital marketing arena by perfecting the product image via photo editing.
Your product image represents your brands image. Editing the image in a way that makes the product more appealing to the target audience, while keeping in mind your brand value, goes a long way in helping influence a consumer's spending behavior. So, without further ado, let us take a look at some of the benefits of product image editing.
Professional and refined images
The first and foremost benefit of editing product images is the ability to transform raw images to polished, refined, and professional ones. Dull and dark images are unattractive and will be less likely to entice customers. Photo editing techniques correct the images and make products look more alluring. This creates a positive impact of your brand in the minds of consumers and reels them in to buying your product.
Enhanced brand awareness
Consumers build an impression in their mind about your brand based on how you portray them. This is why photo editing is crucial to brand building. Editing images by focusing on specific patterns, fonts, colors, and layouts that are unique to your business, helps define your brand and makes your brand stand out. This enhances your brands recall value, thus making buyers feel more confident while buying your products.
Improves conversion rates and increases sales
Regardless of how amazing your product may be, if the image looks dull and average, no one would want to buy it. It is as simple as that. The more alluring and high-quality your products look; the more likely consumers will be tempted to buy. Promoting your products by appealing to the consumers senses in order to increase sales is the very crux of photo editing. Edited images create a positive impression, which increases the conversion rate.
Multi-purpose customization
Editing product images also helps in reusing the images in various platforms. Whether it is using it as a story on Instagram, posting on Facebook, for print advertisement, or even using it as a backdrop for an event, you can modify the pictures so that they have the same quality across all platforms.
Establishes credibility
Establishing credibility as a professional brand is very important in this highly competitive industry. Using stock photos impedes the process of achieving people's trust. Using genuine
and original images of your products that are re-touched keeping in mind your brands image, will not only create credibility, but also loyalty and respect towards your brand.
Realistic images
While it is important to edit your product image to make it look professional and refined, it is also vital that that you edit it as natural and authentic as possible. Making your images look believable by ensuring the product dimensions and features remain proportionally realistic and balanced, builds consumer trust and stronger loyalty.
Image editing helps SEO
Copyright issues are something almost all businesses face when marketing via Google. So, using unique images are the best way to deal with this. This also adds to the advantage of your website getting a better search engine rank and boosting SEO. The best way to ensure your images are as unique as possible is by editing and making them your own.
Lighter websites
Nobody likes it when you are made to wait, especially when it comes to anything on the internet. So, if your website takes a long time to load, it automatically reduces the traffic to your site. Consumers want fast services and the best way to achieve that is by compressing your images. However, compressing images can sometimes reduce their clarity, so it is important that the images are edited by a professional who knows what they are doing.
Now that you know the importance of editing your product images and its impact on your business, the next step should be hiring experienced professionals who are skilled at providing you with the results you need. Our team at Springbord is exactly who you need. Have a look at our website to know more about the services we provide.