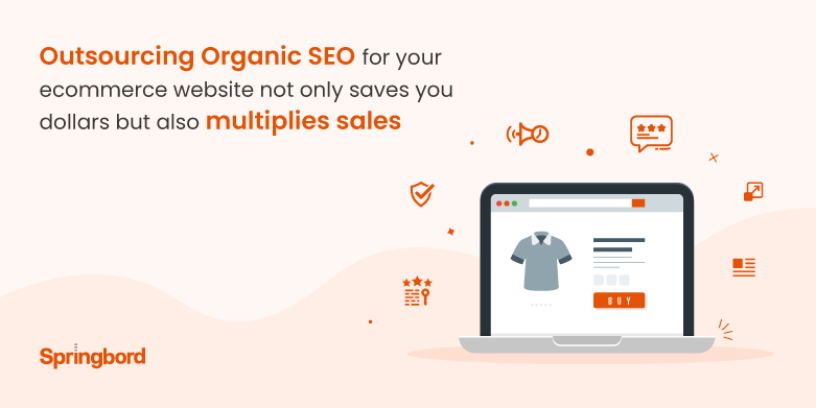 Read time

3

min
Are you a SEO Manager of an ecommerce company?
Or are you a startup with a 'just-launched' ecommerce store?
Then this blog post is all you need to up your game with tried and tested ecommerce Organic SEO tips for your ecommerce company. An ecommerce store usually depends on immediate paid advertising to get its initial chunk of traffic. However, a sensible ecommerce store owner never underestimates the power of long-term organic SEO.
While paid advertising can get you the first chunk of eyeballs, sustaining it requires a steady pumping of investment – and if for any reason, you have to stop it, then the ecommerce store traffic just dies down as quickly as it spiked. Also, for paid ads to work, your store needs to have a focused best-selling product strategy and professionally managed ecommerce product pages with optimized content.
Coming to Organic Ecommerce SEO, this is the backbone of your ecommerce store. As easily as we take for granted the function of our spine in helping us perform our day-to-day activities, we also take organic SEO for granted – without knowing how it works towards strengthening the search engine rank and authority of the ecommerce store. Just like a shoddily made vase does not get any sales, an ecommerce store that ignores the principles of organic SEO gathers no credibility with search engines, and sees very few visitors.
For Organic Ecommerce SEO to work, the plan has to be made taking into account a lot of factors – especially with the products. In fact, even when you are selling your services as a product, these tips will help you get the most out of your ecommerce store.
Tips for setting up highly effective Organic SEO on your ecommerce store:
1. Start Early
Whenever one plans an ecommerce store, in an ideal situation, one must incorporate organic SEO principles in the web design stage itself. In many cases, unless the stakeholder gives such a requirement, developers do not do so. They will go about creating a website that is functional rather than optimal.
The most effective advice Springbord gives its clients when building their ecommerce setup and optimizing it for them is to think SEO from Day 1. Even though a majority of ecommerce SEO services that we have offered have more to do with well-established websites, starting early gives one an opportunity to save dollars.
2. Scale, then scale some more
Ecommerce stores can not be optimized for SEO in the regular manner – majorly because the number of pages in a normal website would be about 5 to 15, while in an ecommerce website, the number of pages depends on the number of products, and the categories – and we are talking about hundreds of pages. It's practically not possible to optimize every page – but a well-defined product optimization strategy will go a long way to helping maximize the fastest selling products in combination with a long-term SEO strategy.
3. Authority builds through well-optimized product pages
With expert product listing services and product management services, you can invest in a well-planned and detailed strategy that will ensure optimized product pages on high-ranking keywords – thus, building authority. Authority gets built by also adding FAQ markups in your product pages.
Why is building authority important? Once you build authority, your pages will start getting served in the top positions of the search engine results, improving your sales and RoI dramatically.
4. Eyes open for duplicate product descriptions
It might be mighty tempting to just duplicate all your similar product descriptions – this usually happens when you bulk upload product descriptions from product manufacturers. However, taking some time initially to craft unique product descriptions will in fact stand you in good stead – given that most of these descriptions would already have been uploaded by manufacturers on their own websites or on other supplier websites.
5. Value vs. Volume
It might make sense to target high-volume keywords and expect the search engines to ultimately start ranking your pages on them – maybe you are prepared to wait for a long time. But there is another way. Choose specific keywords and build value around them. Create meaningful conversations, email marketing, and social media campaigns around these keywords to improve brand recall and beat your competitors innovatively.
6. Nothing works credibly like credibility
Never underestimate the value of a happy customer's review; or an irate consumer's complaint. Ensure your product listings have realistic images, well-written descriptions, and correct specifications and measurements – to ensure that reviews are not about wrong size, wrong specs, misleading photographs, etc. Reviews about quality can help build a solid customer base.
Write to us for a free consultation on Organic ecommerce SEO services and we will be happy to guide you through your decision.