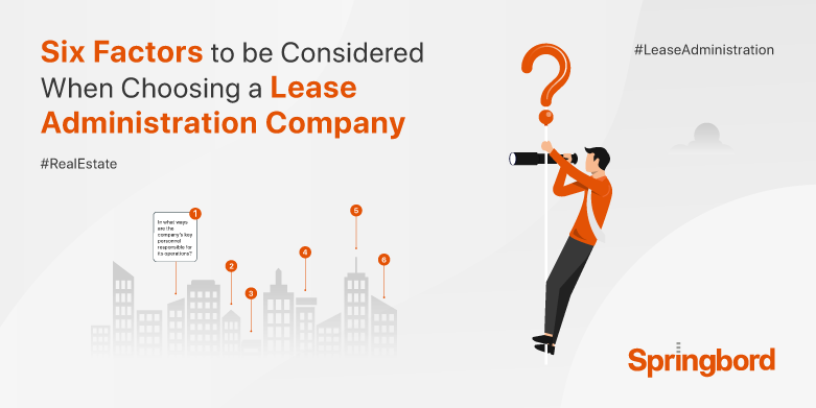 Read time

2

min
There are many positive aspects to hiring a third party to handle the analysis, audit, and management of a real estate portfolio's leases. Due to economies of scale, having a specialized team manage a company's leases results in lower costs and better service for the company as a whole. When property owners outsource their lease administration to pros, they benefit from increased precision, consistency, and reliability. This will allow them to concentrate on what they are good at most.
Companies can have better financial management when they outsource portfolio management to a reliable, experienced third-party vendor and receive detailed pricing information in advance. A binding agreement specifies the scope of services to be provided as well as their associated costs.
To ensure you hire the best firm for your lease administration needs, you should focus on the following six factors.
In what ways are the company's key personnel responsible for its operations?
Speak with some of the higher-ups at a prospective lease administration company. When a company's website doesn't reveal any information about its management team, it's probably a side project or an international firm with no permanent office in the states.
Do they have any accountants or lawyers on staff that have experience in the real estate industry?
Make sure the company you hire to oversee your portfolio is staffed by experts who are familiar with the financial and legal ramifications of your lease agreements before handing over any money. Those involved in the dispute resolution process should keep the landlord-tenant relationship in mind even while they negotiate on your behalf.
What are the regular costs like?
Request a formal estimate detailing the monthly cost per location as well as the included services from the provider. Try to stay away from businesses that charge by the hour, as you may end up spending a lot of money without getting any service at all.
When payment is submitted, what steps do they take to ensure it is approved?
A reliable lease management firm will take the time to explain the considerations made in approving or declining each payment request. In order to avoid paying unnecessary amounts, it is important to examine and verify the CAM charges in addition to the correct rent payment. According to the research, almost 75% of commercial properties have utility bill overcharges.
How are extremely urgent deadlines handled?
In order to effectively manage a portfolio, it is crucial to remember important dates such as renewals and notices of termination. Failure to comply with a lease's terms can have serious financial and legal repercussions. A professional lease management firm will have a system in place to ensure you are informed of any upcoming commitments or opportunities well in advance.
Additional services that are provided?
Consider whether the lease administration firm you hire offers due diligence services if you intend to expand your real estate holdings. Make sure everything is filed away neatly online and easily accessible via electronic bookmarks. Lease documents and related data should be made available online in a secure location so that authorized personnel from your company can access them from anywhere in the world.
Conclusion
Outsource your lease administration to Springbord. As we manage your real estate portfolio with reliability and professionalism. You can rest easy knowing that your real estate division is operating effectively and economically.