Read time

3

min
The very first thing any of us look for is a product image when shopping online. Even if it is a branded product that we are well aware of, without a quality product image we would not proceed with the purchase. Undoubtedly, this consumer behavior makes product images one of the most important and critical assets for any online store irrespective of type and category of product.
And since your product images are so intrinsically linked to the product sale, it becomes imperative to optimize images for every ecommerce store. In this post, we will provide top 3 fundamental practices to optimize product images and also highlight how optimization can help boost traffic and conversion.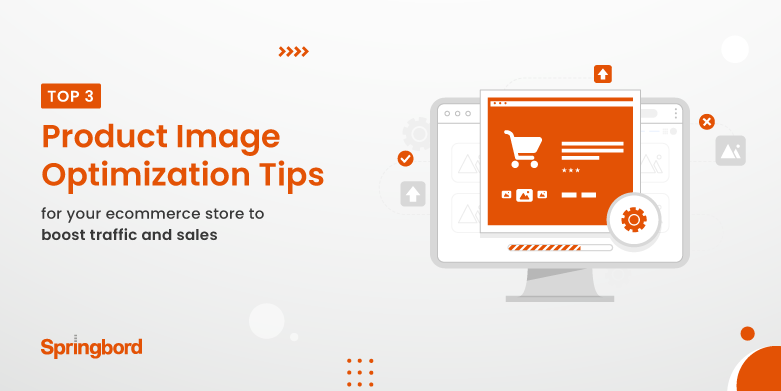 Understanding image type and their use
Images are available in a variety of formats, it is important to understand the type of image to be able to use them appropriately according to their file size. This will ensure that you are using correct product images for the respective online store and help avoid the issue of blurry images. Common formats that are used in online stores are usually PNG, GIF, and JPEG.
While JPEG is the most popularly used format for product images, PNG can be used when you are looking for superior quality and do not mind a bigger file size. And GIFs are of course the go-to-format if you are looking to upload animated images.
Managing image metadata
Metadata is a powerful SEO tool and provides a great opportunity to add the right keywords to your product images. Instead of simply uploading the product image using the same file name, it can rather be optimized by adding alt-text using accurate keywords. The important thing to remember is not to overdo in this space with keywords, because Google algorithms penalize such overloaded metadata.
The trick to optimize metadata (alt-text) is to add description of the image that is understandable even to a blind user. That way you will be prompted to keep it to the point that is helpful and easily understandable.
Optimizing image size before uploading
This is probably one of the most critical steps in optimizing product images for ecommerce sites. Many tend to rely on HTML auto-resize, but it hardly gets you the desired result. If you end up uploading an image that is too big for the platform it severely impacts the page loading time. Plus, the site tends to shrink the image once it is fully loaded, so the end result is a tiny image that the user can hardly see.
Not resizing the image before uploading is counterproductive and affects user experience and in turn, they tend to leave the page, increasing the bounce rate. You need to find that right balance when adjusting the size of a JPEG, because the quality of the image also gets modified. Getting it right is the trick to it so that it is not to big and yet the quality is high.
Here's how optimized images can help attract more shoppers
When you optimize metadata for the images with right keywords it gets indexed by Google, improving page ranking and its search ability significantly. And when your product page appears on the first page of the search engine it automatically gets more clicks and attracts more shoppers to your ecommerce store.
Plus, loading time has been a key factor in the conversion rate and also plays a role in helping pages rank better. By optimization you can improve and accelerate image and page loading times, thus improving shoppers' experience.
At Springbord, we have been helping our clients boost traffic and conversion through right fit image optimization for every online as well as ecommerce marketplace store. To know more about our wide range of ecommerce services, connect with us here.