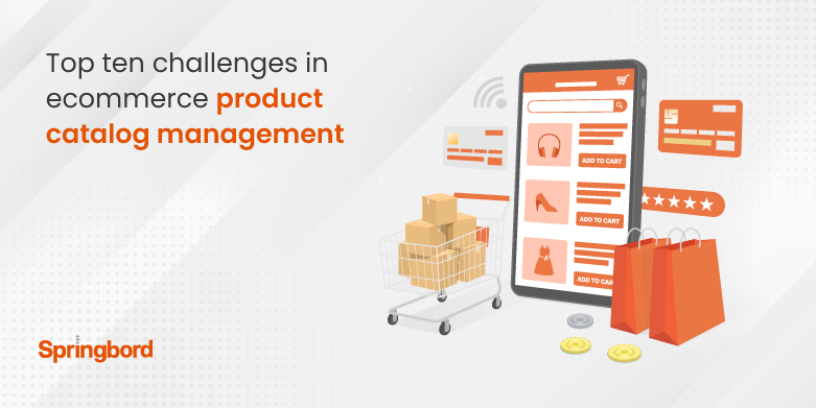 Read time

2

min
E-Commerce is growing at a remarkable pace. Having so many options to choose from is a buyer's haven, but not so much for retailers. The increasing number of competitors and fake products poses quite a challenge for businesses to stand out and be visible. How can you stay on top of the competition and be within reach of prospective buyers? By product catalog management.
E-commerce product catalog is an efficient way of accurately organizing essential details of products sold online. Customers have a need to thoroughly vet the product before buying. This is where a good product catalog comes into play. If they find what they need in one place, they will be satisfied enough to make the purchase.
All said and done, managing a product catalog is no simple task. There are multiple challenges to creating a good product catalog that caters to the online shopping experience. Take a look at some of the challenges below;
Specification management
Specifications of a single product tend to overlap across multiple attributes, making it difficult to accurately manage and catalog. Creating a defined structure that is inclusive of all the products is quite a challenging task.
Updated product listing
The constant launch of new products, re-launch of old products, changes in the system, and so on, requires a constant updating of the product catalog. This ensures customers spend more time on the website and increases the conversion rate.
Maintaining a standard format
Consistent format and language are important while managing product catalogs. Different format for each product or attribute makes it difficult for the customers to comprehend and find the information they are looking for.
Pricing
Based on the buyer, the product pricing may sometimes vary. Proper cataloging of the prices ensures that the right price is provided to the right target customers.
Data accuracy
User reviews are what make or breaks a business. Getting negative reviews due to misleading or inaccurate product detailing creates a black mark that may slow down, or worse, cause a huge loss for the business.
User-friendly catalog
A good user-friendly catalog gives consumers the confidence and encouragement to buy from you. An irresistible user experience via product information is all any customer wants, but most businesses do a poor job of providing that.
Maintaining multiple online sales channels
Retailers also sell their products via third-party channels, like Amazon and Flipkart. Each website has its own format for uploading product details. Maintaining product information consistency and accuracy across all platforms while adhering to their multiple formats becomes exhausting.
Supplier data management
When working with third-party suppliers, they often provide minimum information on product data and may even miss out on a few specifications. Since suppliers are not obligated to provide data in the required format, cataloging becomes quite messy and problematic.
Designated place for product catalog
Having data spread across different divisions and stored in multiple places makes managing and updating information extremely cumbersome. This also leads to repetition of work and loss of data quality.
Experienced professional for product catalog management
E-Commerce product catalog management shouldn't be delegated to just any employee. A skilled and experienced professional is required to ensure proper management and use of product catalogs.
We, at springbord, are equipped with the experience and skills you need to create and manage a flawless product catalog that takes your business to the next level. Have a look at our website to know more about the services we provide