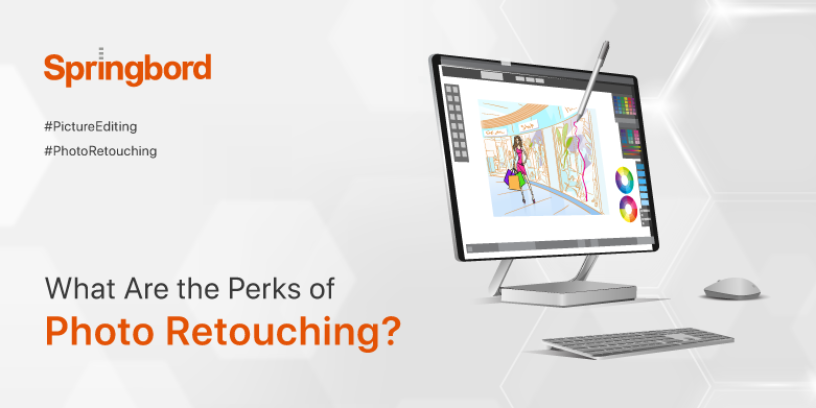 Read time

3

min
Professional picture editing services like photo retouching are primarily concerned with fixing and improving images. Retouching images call for the capacity to bring out different aspects of the image, which can help to compensate for the camera's flaws. The quality of a camera's captured image is entirely up to the photographer. Numerous things can go wrong with a camera, but with photo retouching services, you can make your photos look much better and fix the colors.
Digital photography plays an essential part in marketing for every company to succeed in today's highly competitive market.
If you want happier customers, fewer returns, and a higher return on investment from your content and branding efforts, you need to invest in image retouching and swatch-matching to ensure the most accurate colors possible. Here, we have highlighted the top reasons for using a professional photo editing service.
Optimize the Value of your Photo shoots.
Fashion companies have to spend a lot of money and effort setting up and organizing product photo shoots, which is especially difficult in these days of lockdowns and social alienation. By allowing you to superimpose numerous styles and color variants of the same garment on the original model shoot, image retouching allows you to save money on photo shoots by avoiding the need to undertake a new photo shoot. If you do this, you may prioritize the best-selling items in a certain product line while still quickly updating your product catalogs. Our high-tech retouching service can make any garment look like it was worn by the model during the shoot, no matter how significantly its texture, colors, or tones deviate from the original.
Credibility-Building for Brands
Almost 46% of individuals are more likely to do business with a company they can trust if they see authentic images on the company website rather than stock photos. If you know what you're doing with photo editing software, you can make even a small office look bright and airy.
Boost Sales (and customer trust) by gaining the confidence of your target audience.
Improving the level of trust between your brand and its target audience is one of the best ways to lower purchase barriers. A customer's trust in your brand can be damaged if they notice that similar garments appear to be slightly different colors in different photographs. Exactly what color will the garment be when it arrives? This is a major consideration when shopping online. Customers can make more informed purchasing decisions with the help of accurate color representation, which could lead to a rise in online sales.
Cut Back On Products Refund
Dissatisfaction with the item's appearance, particularly its color, compared to the online or catalog representation is a common reason for the return of apparel. True-to-life color reproduction boosts sales and reduces returns, giving you more bang for your buck with each image you use.
Remove The Flaws
After the cameras have captured a photo of a celebrity, the image is edited to remove any blemishes, such as scratches, stains, lines, cracks, etc. Photo retouching is the solution, even if you only want the photo to look beautiful or have that glossy sheen.
Cutout/Background Elimination
Unwanted elements in the backdrop of an image can divert a consumer's attention away from the featured goods. When an image is cropped and the background is removed, it becomes all about the product being advertised.
Images formatted for print or online use
Last but not least, expert picture retouching makes sure your product and brand photos look their best whether they're being published in print or online.
Conclusion:
Sometimes, when we don't have a lot of time on our hands, we may decide to use a Photo Retouching service instead of doing the work ourselves. You may improve the look and quality of your images by employing a service that specializes in image retouching.
You should hire a professional photo editor if you want to get the best possible results from your advertising dollars. Put your company in the best possible position to take advantage of upcoming possibilities and maintain a competitive edge with the help of Springbord photo retouching services.