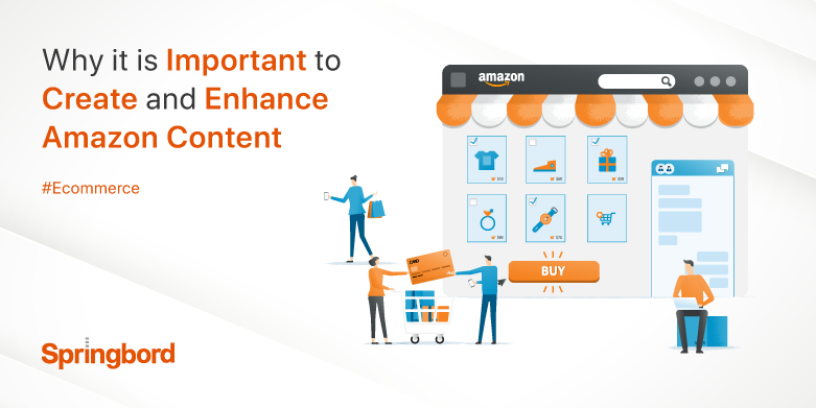 Read time

2

min
Content creation and enhancement are imperative for brand owners as they allow them to adjust the depiction field of their Amazon Standard Identification Number/s (ASINs). It also offers sellers the option of enhancing the images, content arrangements, and depicting the product features or highlights through the brand story. You can also respond to client request by providing meaningful and essential data that boost sales and lower the chances of returns and unsatisfied clients. With Amazon content creation and enhancement, sellers have the advantage of featuring their products online, distinguishing their brand from competitors, and converting snaps into changes.
Who receives the benefits?
Sellers who have accepted Amazon's Brand Registry and are the proprietors of the brand can make use of Enhanced Brand Content or EBC. But make sure your content creation and enhancement or EBC is endorsed by Amazon before you make it live.
How does it work
Enhances content style guide
It is not that all the shoppers read every paragraph that you present. Many skim through and read only the bolded headers and scan the pictures. Images and videos offer a visual treat to customers, and they represent the product properties in a clear and detailed way. The best way to display your items is in a grid, which aids customers in easily looking at the efforts put inside a product listing.
Introduces your product in an appealing way
Customers spend only a few seconds on your page before making a purchase. So ensure you attract them and make them buy your product by providing valuable and informative data. This data ought to look enticing and should be able to convince your clients.
Uplifts the overall look of the website
EBC makes your product easy to find and improves page ranking. The first 150 expressions of your item will be indexed and found on the web. In addition to this, enhanced content incorporates Amazon SEO catchphrases for natural queries. Utilize this butterfly effect to make your content compelling.
Delivers an attractive shopping background
Enhanced content puts clients first and ensures certainty of purchase. While content helps shoppers make great buying decisions and purchases. In the computerized field, purchaser trust and credibility depend on accurate, helpful, and convincing data.
Boosts sales
Before making a potential purchase, many shoppers tend to visit the web store to learn about the product and identify its purpose, features, and benefits. They also have other options or ideas like buying your product from a nearby brick and mortar. Either from a website or a nearby store, the chances that your product will do good in the market are high. On its face, websites provide all the required and essential data or information to make a buying decision.
Conclusion
As discussed at the start of this blog, for any eCommerce business, content creation and enhancement is vital. The number of sellers who are trying to sell their products on Amazon is high. Undoubtedly, the competition is also high, making it hard to achieve success. Amazon content optimization, which includes titles, product features or commonly known as bullets, product descriptions, and others details, aids you stand out from your competitors. To make your content more effective, you can outsource it to an experienced service partner like Springbord, who can help you achieve desired outcomes.