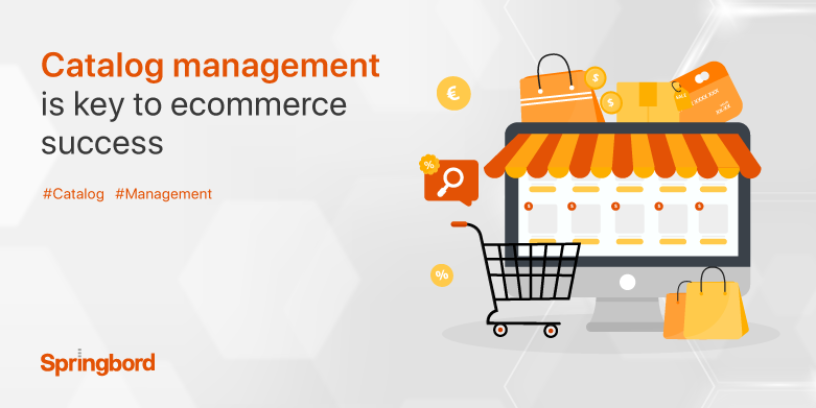 Read time

2

min
Global e-commerce sales have seen unprecedented growth fueled by Covid-19 restrictions which are estimated to jump to nearly $26.7 trillion in online sales. This meteoric growth, which continues to accelerate has spurred a massive demand for catalog management solutions and services. According to research, the catalog management system market is expected to grow at 9% CAGR between 2021 to 2026.
Data bear the fact of how critical catalog management is for e-commerce businesses to be successful. In fact, it is the differentiating factor that enables players to gain an edge over the competition. Let's look at 3 defining aspects that show how critical catalog management is to an e-commerce business.
Handling ever-growing SKUs
In an ever-scaling e-commerce market, every e-commerce player needs to have the ability to efficiently manage millions of stock-keeping units (SKUs) along with their relationship with other aspects including product taxonomy and categorization. And all this without compromising the quality of the product content. Handling and managing product catalog, its taxonomy, is in itself a complex task, made even more challenging in the face of an ever-growing number of SKUs. This is an ongoing process where online store owners need to manage millions of product data that continues to grow exponentially almost near real-time to avoid any downtime or impact on sales.
Creating product taxonomy and structured categories
Product taxonomy demands in-depth knowledge of products, their attributes, and the platform and skill to logically create structure, categorize, and present them to the customers. The sale of products on an e-commerce site almost entirely depends on the way products are categorized and presented. Poorly structured categories or limited/inaccurate attributes can severely impact and influence search results, making it increasingly difficult to find/discover produ
Server Error
503
Service Temporarily Unavailable
The server is temporarily unable to service your request due to maintenance downtime or capacity problems. Please try again later.
---
That's what you can do