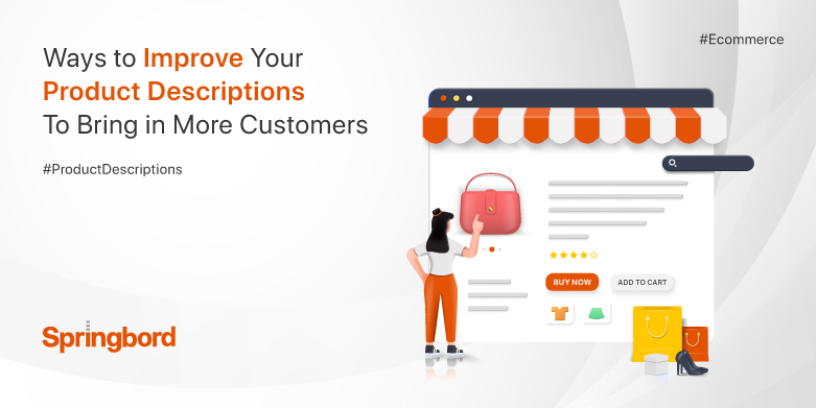 Read time

4

min
Quality product descriptions are important because they can help customers make quick decisions. This is especially true for products with many benefits compared to competitors. Good content can be the difference between an impulse buy and an abandoned cart.
Product description writing services can help you turn your ideas into compelling text that will sell your products to the masses.
Product descriptions: What Are They?
A product description is a section of text that appears on a product page and describes your product and the benefits it offers customers.
Both describe characteristics and encourage potential customers to purchase our goals of product descriptions.
Most copywriters make mistakes in the second section. While an item's technical specifications are vital, it's also critical to employ product descriptions as a means of influencing visitors.
Product descriptions are an excellent place to apply strategies like urgency-building, social proof, calls-to-action, and others. When written well, they can help generate traffic from search engines.
Benefits of Product Description Writing
You can improve your search engine optimization by having optimized product details. You may increase your chances of ranking highly on Google by tailoring your item description to incorporate targeted keywords. You may be able to optimize your photos for keywords without product descriptions, but your product page may not rank highly in search results owing to a lack of content.
Your customers can learn more about the product through the product descriptions. The product description provides more information about the item than the picture alone can. For instance, you probably wouldn't purchase a laptop based just on the image. You should research the features and characteristics of the laptop as a buyer. This also holds for the fashion industry, as specific customers may have fabric allergies and want information on the goods you sell. You may avoid a backlog of customer support requests by giving customers access to essential product information. Additionally, it enables buyers to decide whether a particular product is an ideal for them, which may reduce the number of returns.
To strengthen the relationship between your business and the customer, you can also use product descriptions to make the buyer giggle. Additionally, it might reassure clients that your solution will alleviate their most significant problem or improve their quality of life.
How to Write Product Descriptions That Will Sell More
Make up your own
It is best not to use the product descriptions provided by the manufacturer. If you write your own material, you can avoid getting penalized by Google for duplicate content or having only a small amount of overall content. You also increase your chances of crafting a product description that will convince a buyer to purchase from you.
Make it possible to scan it
Your product description must be straightforward to read. Customers can receive the information quickly and purchase the product immediately if the product is described in two words and multiple bullet points are included. If you sell computers, putting the specifications into bullet points will make them much easier to read for your customers.
Know Your Audience
You could add humor to your business by selling fun things like food-shaped jewelry or ugly Christmas sweaters. Your writing should be lighthearted and playful since buyers who purchase those things will likely value an amusing product description. On the other hand, comedy is not effective in all dropshipping sectors. For instance, it would be inappropriate to use humor in the description of a product that deals with topics such as life jackets, coffins, or other delicate matters.
Enhance the Quality of Your Product Descriptions
Utilizing a program like Plug in SEO on your online store will be the simplest and most effective method for optimizing your product summary. You should use keywords that are associated with your product in some way. If you sell cosmetics brushes, for instance, you'll want to be particular about the types of brushes you provide, such as "unicorn makeup brush" or "mermaid makeup brush."
Share a Story
You should try to tell a tale with your product description. It could be a story that explains why your customer needs this product to solve the problem that they are having. Or a description of the advantages of using the product. Or perhaps it's just an exciting narrative about the product that piques the customer's interest.
Split It Test
Don't forget to split test your product descriptions. Experiment with a variety of layouts, word counts, and other aspects. A better conversion rate can be achieved by testing several versions of your product descriptions and using those results to optimize your product page.
Check Your Work For Accuracy
By reading them over again, you can ensure there are no mistakes in the product descriptions. You may avoid making spelling mistakes by utilizing software such as Grammarly.
Provide Each And Every Detail
Check to see that your customers have all the information they require before purchasing from you. For instance, if you dropship garments, providing clients with care instructions and sizing charts might assist them both before and after they make a purchase. If you sell tablets, you should make sure that you mention all of the specifications for each model. If you dropship jewelry, you should include "nickel-free" information in the product description because certain people have sensitivities to particular components.
Final Note
You need to attract the right kind of attention to create a successful product description. A good product description should list the unique features of your product, not just its primary functions.
Springbord is a world-leading product description service provider. We do that by combining our experience in the industry with proprietary technology. Springbord provides the best product description writing services. We are a company that provides you with effective and higher conversion rates by providing quality content for your website.