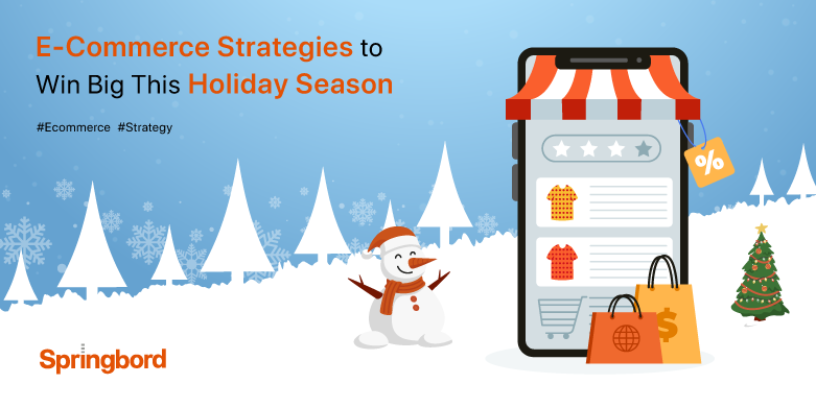 Read time

4

min
It is that time of the year again. Something that businesses and shoppers, alike, eagerly look forward to; The festive season. There is something about the festive times that just makes everyone want to spread good cheer all around. What's better than buying gifts for loved ones to spread that merry cheer? Usually, you'd see crowds gathering at shops and malls, everyone on a shopping spree. This time around, due to the pandemic, the festive season has surged the digital spending instead. Shoppers now want to stay in the safety of their homes and go on with their merry shopping spree ways.
Online businesses get more revenue during the holiday season than any other time of the year. As amazing as this sounds for your business, it can also be a stressful time. You need to have occasion specific marketing plans and strategies ready in hand, that needs to be properly executed to best take advantage of this time. So, if you play your cards right, your business can win big during this holiday season by incorporating some of the strategies given below.
Plan ahead
Ensure that you plan your marketing strategies way ahead of the festival time. Our country has multiple festivals that occur all year round, so it would be a tactical move to strategize and plan your marketing campaigns and goals on a yearly basis. This ensures that you will be better prepared in bringing out a profitable outcome of your marketing plan.
Prioritize festival specific strategies
More festivals, means more shopping, more marketing plans, which would only mean more revenue for your business. So, it is important to thoroughly research each festival before you start planning. This provides an in-depth understanding of your target audience and their specific needs, which will help you better understand which product or service you can highlight in your strategies.
Refine ordering, pickup, and delivery
A fundamental strategy that must be practiced by E-Commerce businesses; Keep your ordering and payment process simple. Having too many steps to go through to just place an order and any holdups causing a delay in the delivery and pickup process becomes extremely off putting. This discourages customers to come back for more from your band.
Utilize appropriate engagement channels
With so many modes of communication readily available, your customers have their own set of preferred communication channels. Some would want to chat via WhatsApp, others would want to phone or email. Many times, customers also try to reach out via social media. Irrespective of how they try to reach you, it is your priority to resolve any issue. Researching about different engagement patterns and identifying the effective communication channels your customers use, will result in guaranteed customer satisfaction.
Enhance your websites loading speed
In this fast-paced world, nobody has the patience to wait for anything for more than a few moments. If your website does not load fast enough, shoppers will just go to the next. Slow websites impact shoppers purchase decision, so make sure that you enhance your websites loading speed, especially during the festival season when the traffic is usually higher.
Strengthen backend support
You have your entire campaign thoroughly strategized and ready to go. It has just the right amount of appeal to make shoppers want to buy it, but then a small hiccup disrupts your sales. Your support team is not up to speed with their response. Unanswered questions frustrate customers and leads to website abandonment. Ensure your support team is equipped with all the resources and tools required for an efficient and smooth response time and user experience.
Create combos/bundle discounts
Another great strategy to attract potential customers in order to boost sales is creating combo or bundle offers. Offering a discount for a combination of more than one product is an effective way to make shoppers feel they are getting the best value for their money. Offering a sample, giving away freebies, buy two get one offers on selective items, and other such combos will not only leave customers satisfied, but will also increase your revenue.
Create limited time discounts
We all know that the festival time is a period of huge discounts and special offers. It is when you can increase your profit and heighten your brands awareness. What you should also understand is that nothing sells better than a sense of urgency. Creating limited time offers by using enticing catchphrases, like "Deal of the day" for example, makes customers feel that if they do not buy it now, then they can never get an offer as sweet as this. The sense of urgency created drives customers to grab the deal, thus increasing your sales.
Cash in on the anticipation
Excitement and anticipation also sells. Creating a sense of mystery and intrigue via a special preview or a sneak-peak of the unique discounts and offers that are to come entices the shoppers and prepares them to make the purchase and seal the deal.
Post-festive season analysis
Lastly, once the festival time comes to an end, it is prerogative to do a post- festival analysis to evaluate and study the success of your marketing campaigns. Examining the data gives you an insight on the strategies that worked best for you, piqued your customers intrigue, and lead to the maximum conversion rate. This knowledge can help better your future campaigns and will come in handy when deciding your budget allotment.
Suffice to say that a successful eCommerce marketing strategy will keep you better prepared throughout the year. Springbord can help you with that. It is our job to ensure your business gets that buzz going in order to boost your sales. Have a look at our website to know more.