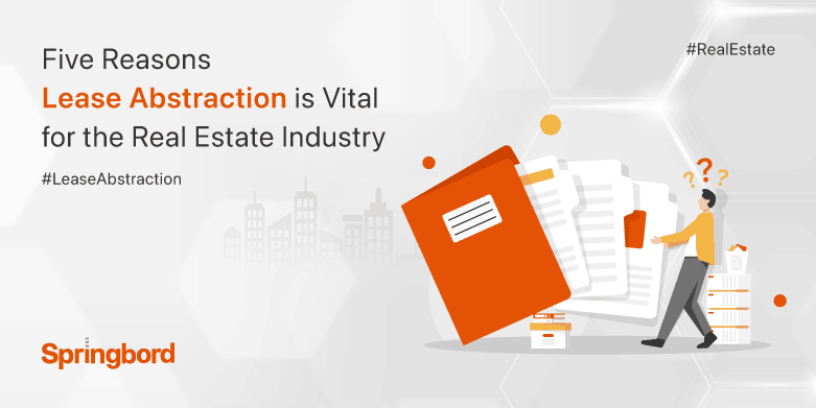 Read time

3

min
Although lease abstraction makes lease management easier, the extraction process is time-consuming and requires a thorough analysis of documents and an in-depth knowledge of finance leases.
The Significance of Lease Abstraction for Real Estate Businesses
The real estate market relies heavily on lease abstraction, a service that summarises key provisions of a lease agreement into a document that can be used to resolve disagreements between the parties. When a real estate company tries to handle all of its lease interpretation needs in-house, the results are often disastrous.
A well-documented Lease Abstract, on the other hand, aids property management businesses, contractors, brokers, landlords, and renters in saving time and maintaining clarity regarding the scope, conditions, and responsibilities of the lease.
For real estate companies, the difficulties of maintaining an in-house lease abstraction staff can be avoided by partnering with an experienced lease abstraction and management company. One cannot overstate the value of lease abstraction to a property management company.
---
Let's quickly examine why lease abstraction is so vital for commercial real estate management companies.
1. Challenges and complexities
The type of lease, geographic location, regulatory requirements, and other factors all affect the content, conditions, commitments, and clauses included in any given lease agreement. Lease agreements are written in a wide range of languages and stored in a wide range of file formats.
Accessing necessary lease data at the right time has become increasingly difficult as the complexity of lease contracts has increased. Because of this, it is becoming more challenging to efficiently manage lease portfolios.
On the other hand, when executed properly, lease abstraction enables timely and accurate management of obligations across any size lease portfolio. Additionally, familiarity with industry terminology is crucial for handling the complexities and variations.
---
2. Eliminate the potential for mistakes made by humans and guarantee precision
It can take a lot of time to manually abstract lease clauses from large lease documents. In addition to being a time-consuming chore, manual data entry becomes exponentially more difficult under pressure to meet stringent deadlines. Because of this, there is a chance that mistakes will be made.
Furthermore, even a seemingly insignificant simple mistake in a lease abstract can have serious consequences for a real estate business. However, with the help of artificial intelligence, the lease abstraction process can scan, update, and provide accurate abstracts regularly.
The process can be sped up with the aid of cutting-edge lease abstraction software, which aids in the creation of a searchable database of lease documents and other property-related documents. Exports to formats like Excel, Word, PDF, and JPG are made from these files later.
Automating lease administration with cutting-edge tech is essential for reducing room for human error and increasing the reliability of abstracts.
---
3. Supports Optimal Revenue Generation
Revenue maximisation is facilitated by effective lease portfolio management for property managers. A lease abstract will classify and define the costs that are the responsibility of the landlords, tenants, and facilities managers.
To improve the company's cash flow and cut down on wasteful expenses, managers can periodically review these costs and submit reimbursement requests.
Therefore, optimising a property's revenue, overhead, and other charges related to maintenance is facilitated by lease abstraction.
---
4. You Can Now Easily Find Any File You Need
Commercial leases are distilled for use in property management and upkeep by leasing auditors. This abstract saves them time by allowing them to quickly find the relevant concepts without having to read the whole thing.
The abridged abstract of the lease includes various rental information areas as:
Tenant's full name
Number of Suites
Leased Property Square Footage
Renewal conditions for the primary rent
Automation software extracts field values and processes the data in a typical lease abstract, making it much easier to capture and calculate information than with manual abstraction. A clear and concise abstract of a lease is a great tool for navigating the document quickly.
---
5. Investors can avoid wasting time on risk evaluations.
Looking over the leases and other clauses is a crucial part of the risk analysis process. Investors, lawyers, analysts, and lenders are the typical practitioners of risk analysis. There is usually not enough time for investors or their staff to go through hundreds of lease documents.
Also, each lease term has its unique structure, so it can be challenging to locate important details.
The essential information required to review and assess the risks associated with a lease is conveniently summarised in the lease abstracts, saving investors valuable time.
Conclusion
The use of lease abstracts is a crucial part of good practice in the commercial real estate industry. It is essential for property investment and management that lease data be extracted and kept up to date. In the event of an improperly abstracted lease, or one that contains errors or presumptions that are not adequately addressed.
By providing timely and accurate lease abstraction services, Springbord has been assisting businesses in managing their lease portfolios more effectively, reducing risk, ensuring compliance, integrating data with other platforms, and enhancing overall lease data management.
---
At Springbord, we've been easing the process of reviewing, assessing, and executing leases for businesses, property managers, and landlords for some time now.
Get in touch with us today to learn more about our Lease abstraction offerings.