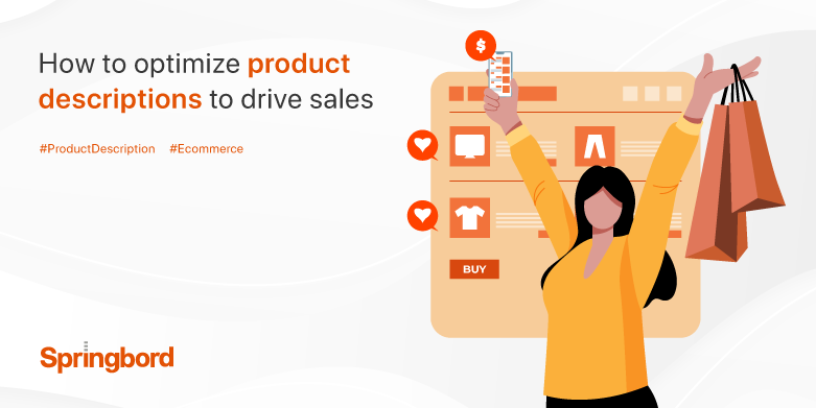 Read time

2

min
Online shopping is the norm now. People are accustomed to buying things from the comfort of their homes, especially after the pandemic. With thousands of retailers competing for their attention, what can you do to beat the odds?
Product description.
A product description is what differentiates your brand. It is what makes the customer click the 'Buy' button. If you optimize it to give what the consumers want, in a way they want, your brand will have increased conversion rates and their loyalty.
Tips to optimize your product descriptions
Getting the basics right
Say no to long paragraphs. Unique, concise, and engaging descriptions in simple language encourage buyers to read or scan through and make an informed purchase. Specifications can be listed in bullet points. Remember, the product decides the length of the content. You cannot convince a person to buy expensive commodities within a few sentences.
In that case, break them into paragraphs of a few sentences each. They might have researched about it already but you cannot afford to miss out on any details. Be as specific as you can be without over-promising. List out the benefits and be transparent.
Know your customers
Try to view the products from the buyer's point of view. Take the genders, age, income, locality, etc into consideration when targeting a particular audience. Display ratings, reviews, awards, and any positive mentions by media or celebrities.
SEO
Fix the word count of the description after checking what the top search results do. Look for target keywords and use one or two of them in your meta title and description, and product descriptions. Know what your customers are looking for in your products and make that your selling point. Avoid using the same description on many pages as it affects ranking.
Pictures
Pictures are crucial in triggering the excitement of consumers. Specifications can be placed near the respective pictures to let them know the functional benefits or added advantages. Provide alternate text for images incorporating the keyword and enable permissions for assistive technologies.
Establish your brand
The sale of a commodity is a positive response to your brand. Connect your brand to all the products. Change descriptions from the manufacturers to reflect your brand voice. Also, mention any original process or procedure used to create the product. The backstories and values of a brand assure the buyer.
Update
When the product gets upgraded or the trends shift, make sure the product description reflects the change. Writing product descriptions is not a one-time job and it requires frequent review and updates.
Scaling
When more products are added to your business, product description may become tiresome as it requires constant attention. The best solution is to opt for product description writing services by partnering or outsourcing with organizations that have the right technology to help you. Turn your shoppers into buyers with Springbord e-commerce product description services. We ensure up to 88% product visibility. Reach us here