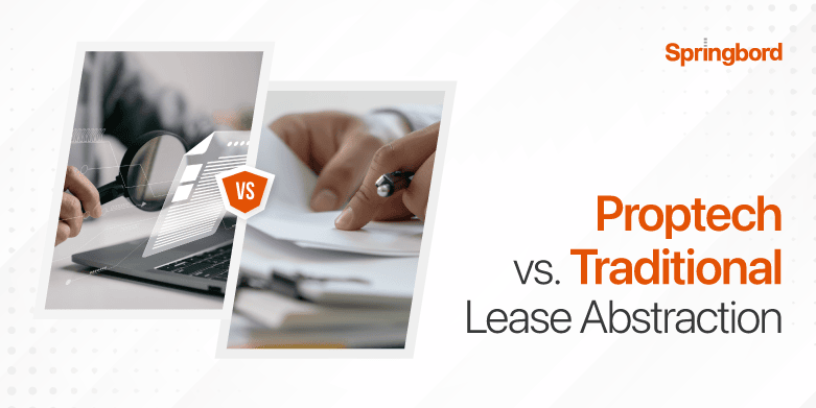 Read time

3

min
In the ever-evolving landscape of the commercial real estate industry, efficiency, accuracy, and cost-effectiveness are paramount. Traditional lease abstraction processes, though tried and tested, have faced challenges in meeting the demands of today's dynamic market.
In this blog, we will explore the transformational impact of proptech-based lease abstraction, comparing it to manual processes, delving into its advantages, addressing integration challenges, and peering into the future of proptech in lease abstraction.
Several critical metrics to evaluate when comparing proptech and traditional lease abstraction include:
Efficiency and Speed
Traditional lease abstraction involves manual extraction and analysis of lease documents, which can be time-consuming and error prone. Proptech, on the other hand, utilizes automation and Artificial Intelligence (AI) algorithms to streamline the process, significantly reducing the time required. According to a recent industry study, proptech can complete lease abstraction tasks up to 60% faster compared to traditional methods.
Accuracy
Accuracy is paramount in lease abstraction, as even minor errors can lead to legal disputes or financial discrepancies. Proptech solutions leverage advanced Optical Character Recognition (OCR) and Natural Language Processing (NLP) technologies to ensure accurate data extraction. They can achieve an accuracy rate of over 99%, a significant improvement over manual processes.
Cost-Effectiveness
While traditional lease abstraction may involve hiring additional staff or outsourcing services, Proptech-based solutions offer cost savings. A survey of commercial real estate companies found that proptech adoption can reduce lease abstraction costs by 30% on average.
Proptech, driven by advancements in artificial intelligence (AI) and machine learning (ML), has transformed commercial real estate lease abstraction and has several notable advantages over manual processes.
Real-Time Data Access
Proptech solutions provide real-time access to abstracted lease data, enabling quicker decision-making and enhanced portfolio management. This is invaluable in today's fast-paced real estate market, where agility can be a competitive advantage.
Scalability
Proptech allows for easy scalability. Whether you manage a small portfolio or a vast real estate empire, proptech solutions can adapt to your needs, ensuring that lease abstraction remains efficient and cost-effective.
Compliance and Reporting
Proptech-based lease abstraction solutions come with built-in compliance checks and reporting capabilities. This ensures that your lease portfolio remains in compliance with changing regulations and helps you avoid potential legal issues.
Challenges in Leveraging Technology for Lease Abstraction Services
Initial Costs
Implementing proptech solutions will require financial investment in software, training, and infrastructure.
Data Security
Lease data often contains sensitive information. Ensuring data security and compliance with data protection regulations is crucial when adopting proptech solutions. Companies must invest in robust cybersecurity measures and data encryption protocols.
Integration Complexity
Integrating proptech solutions with existing systems can be complex. Companies need to assess their current IT infrastructure and ensure that the proptech solution seamlessly integrates with other software and databases.
Addressing Challenges in Proptech Integration
Change Management
To address resistance to change, organizations can implement comprehensive change management strategies. This includes educating staff on the benefits of proptech, providing training, and involving employees in the transition process.
Data Security Measures
Companies should partner with proptech providers that prioritize data security. Robust encryption, regular security audits, and compliance with industry standards should be non-negotiable requirements.
Integration Experts
Engaging IT experts experienced in proptech integration can streamline the process. These experts will help with smooth transition and ensure minimum disruptions.
Emerging Proptech Trends in Lease Abstraction
1. Natural Language Processing (NLP)
AI and ML are poised to revolutionize lease abstraction further. These technologies will enable Proptech solutions to continuously learn and improve accuracy and efficiency.
2. Blockchain for Data Security
Blockchain technology can enhance data security by creating an immutable ledger of lease transactions, reducing the risk of fraud and ensuring data integrity.
3. Enhanced Mobile Accessibility
Proptech solutions are becoming more mobile-friendly, allowing users to access lease data and analytics on the go. This trend aligns with the need for flexibility in today's remote work environment.
Future of Proptech in Lease Abstraction
In conclusion, the future of proptech in lease abstraction is promising. Proptech-based lease abstraction is a game-changer in the commercial real estate industry. It offers superior efficiency, accuracy, and cost-effectiveness compared to traditional methods. While integration challenges exist, addressing them through change management, robust security measures, and IT expertise can pave the way for a seamless transition.
Leverage the power of technology to streamline your lease abstraction process and gain a competitive edge in the market with Springbord's efficient and cost-effective lease abstraction services and propel your real estate portfolio to new heights.