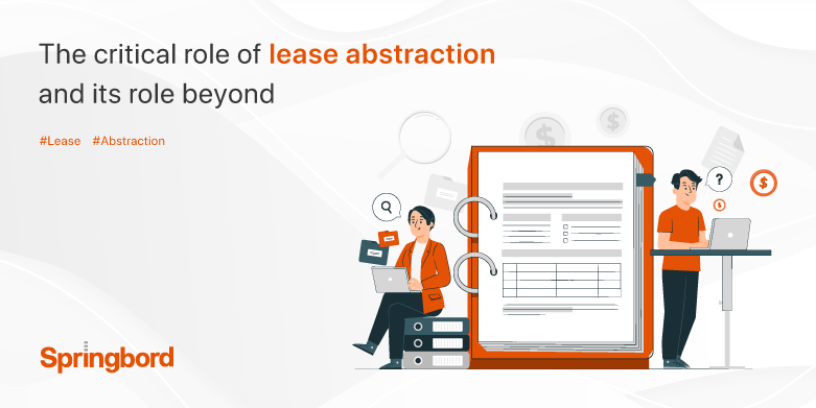 Read time

2

min
Lease abstraction is essentially a summary of important and critical lease terms and clauses and relevant lease data extracted from an original signed lease contract. Lease abstraction helps property managers and landlords review, assess, and execute leases easily.
That said, while lease abstraction simplifies the process of lease management, the process of extraction is tedious and demands a substantial document review and in-depth understanding of lease contracts.
The importance of lease abstraction in a real estate business
A lease abstract makes it easy to comprehend lease contracts at a glance and eliminates the need for browsing through voluminous and tedious contracts and spending a substantial amount of time reading through hundreds of pages. Lease abstracts include the most relevant and critical financial and legal information that is summarized in a user-friendly and easy-to-navigate format. The growing importance of lease abstraction in a real estate business cannot be emphasized enough. Although, here's a quick look at the top reasons why lease abstraction has emerged to be a critical business function.
Complexities and variabilities – Lease contracts vary in type and complexities – in that, agreements have different content, terms, obligations, and clauses, based on the lease type, location, regulatory requirements, and such. Add to this, lease contracts are also drawn in different languages and are stored in varied formats. Given the complexities of lease contracts, accessing required lease data at the right time has become invariably challenging. As result, it is becoming increasingly difficult to manage lease portfolios efficiently. Lease abstraction, on the other hand, when done correctly, allows you to efficiently manage the lease portfolio irrespective of its size and manage obligations on time and as per the terms.
Large volume – Lease agreements are voluminous contracts that usually entail hundreds of pages multiply this to large lease portfolios. Looking for relevant lease data, clauses, critical dates, and financial information from such voluminous agreements is a complex, herculean, and exceedingly tedious process. This often leads to mismanagement of lease portfolio due to missed dates or the inability to access the right information at the right time.
Error-prone – Reviewing voluminous leases and extracting important information is a tedious task that becomes increasingly complex when done under severe time constraint making the entire process extremely error prone. However, ensuring information accuracy is key to lease management and execution, lack of which can lead to financial, legal, reputational, and business risk. Lease abstraction can help avoid such errors, providing quick access to right information at the right time.
The role beyond abstraction
Having access to lease abstracts goes beyond saving a significant amount of time and effort needed to browse through contracts to gather important information, it offers access to data that is valuable and can help drive better business outcomes. Moreover, professionally done lease abstraction allows you to integrate lease data with other systems such as lease accounting, helping you streamline the entire lease management and administration process underpinned by accurate and timely access to data.
At Springbord we have been helping companies manage their lease portfolio efficiently, minimize risk, ensure compliance, integrate data with other platforms, and improve overall lease data management through timely and accurate lease abstraction services. To know more about our Lease abstraction services, connect with us today!