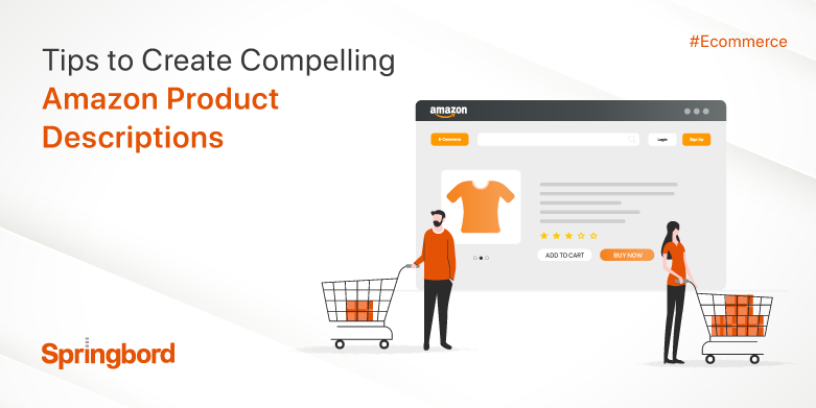 Read time

3

min
Amazon, known as one of the e-commerce giants, is a competitive marketplace where sellers strive hard to sell their products on the platform. With a wide user base, it has been helping sellers reach out to a variety of customers and boost sales. But achieving conversions and generating sales isn't as easy as you think. Amazon puts sellers in front of new challenges that make it difficult to achieve what is expected.
The first challenge is to write a product description that can help in conversion. A product description that is simple, easy to read, and informative will keep customers coming back to you. If you are confused about how to write an engaging product description, then this blog is a must-read that will give you a few simple but easy tips to create awesome Amazon product descriptions.
Tip 1: Perform customer research
Before making any purchase decision, customers tend to search on Amazon first. So it is imperative to provide informative and valuable content that will drive sales and profit. But knowing customers' search preference and expectations are no joke. It requires a lot of research and analysis. Conducting customer research is not just to understand your customers better but to provide engaging product descriptions that will satiate their requirements. Think of questions that could arise in your customers' minds and provide suitable answers. This will help them in comprehending the purpose of the product, its significance, and the difference it could bring in their daily lives.
Tip 2: Simplicity if the key
A product that fails to attract customers will never do good for your business. As said earlier, a product description that is simple to understand will instantly make them purchase the product. Now, this doesn't mean that it shouldn't be engaging. One best way to write a simple but engaging product description is to use short sentences and avoid industry jargon. On the other hand, a wall of text will make it more complex for customers to know the product's purpose and benefits. So it is wise to go with short paragraphs with an average of 4 to 5 sentences that will make it easy to skim when buying online.
Tip 3: Say it with images
It is rightly said image speaks a thousand words! An informative image of high quality will boost conversions. This is because people first look at the images rather than the text and pay full attention to them to know product details. If your customers get satisfied with seeing the images, then it means you have won their hearts. So make sure you use clear, relevant images that will grab people's attention at first sight.
Tip 4: Sound unique and professional
There are many ways to write a product description but choose the one that will benefit you and your customer. Write unique and interesting descriptions instead of using the brand's content. Ensure you use bullet points when highlighting product features and bold text wherever necessary. This will aid you in bringing more customers to your page, which will, in turn, boost traffic. Also, it is essential to periodically update your writing skills and familiarize yourself with new tools that will check spell errors, grammar, etc. Enhance the way you display your products on the page. Organize it in such a way that it offers a seamless shopping experience for your audience.
Tip 5: Incorporate SEO keywords
Writing effective product descriptions is crucial to turning visitors into customers, but keywords usher in bringing new customers to your page. Using SEO keywords can help you top the ranking page. Identify keywords that most customers use to find the product they are looking for. Incorporate those keywords naturally in your product description in the right density. Remember, do not force-fit or stuff too many keywords into the description as they may give poor page rankings.
Conclusion
Writing product descriptions for Amazon may be demanding but not a hard shell to crack. Follow the tips mentioned above the next time you write descriptions. Alternatively, you can also outsource it to writing agencies like Springbord, which can help streamline the process. With adepts and the right tools, we ensure that your product descriptions are enticing and alluring. Talk to us today to know how our product description services will help transform your business.