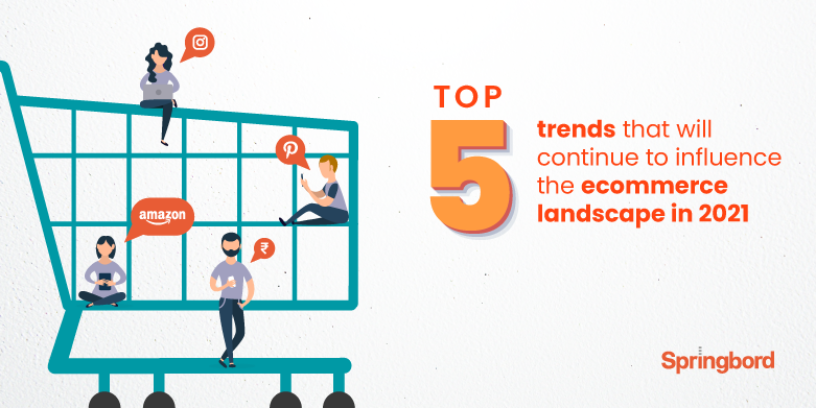 Read time

3

min
While COVID-19 has disrupted the world in ways that no one could predict, it has had a different and deeper impact on ecommerce players thrusting them into newer partnerships, networking and mutual responsibility and growth. As this trend continues to accelerate, new standards of performance, excellence and value creation is redefining the landscape. With global ecommerce expected to approach approximately $5 trillion by 2021, it is imperative for players to understand the trends defining the ever-changing market space to claim their slice of that pie.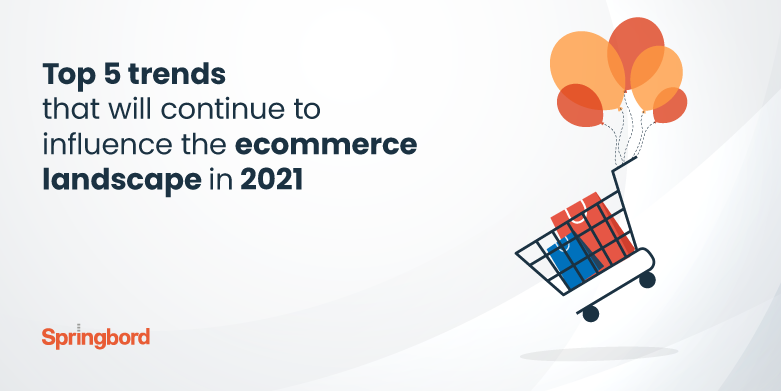 In this post we have listed top five ecommerce trends that you need to watch out in 2021 and adopt in order to retain and gain market share and beat your competitors.
#1 Shoppers' Behavior
Consumer behavior has been evolving and it will continue to do so at a rapid pace as new platforms emerge, and digital devices continue to become an integral part of our lives. From regular product search, cross-channel shopping, reviewing products on social media, comparing prices, to searching and discovering newer products on Google – a shopper's journey is only going to widen now more than ever.
What this means for ecommerce players is that they need to be present wherever their customers are. It is going to go beyond omni channel efforts, from product visibility to pricing to marketing and branding, retailers need to have a comprehensive cross-platform strategy. By integrating social, marketing, search and retail strategies, players need to ensure that they are meeting the shopper across touch-points to influence their experience throughout the journey.
#2 Product Description
It is a well-established fact that product description page plays a key role in driving ecommerce conversion. However, despite its criticality ecommerce players often fail to focus on creating well-written and optimized product description pages across platforms. But this trend is here to stay and grow stronger, so if you wish to drive growth, you will need to pay attention to product description pages.
Leading ecommerce players frequently revisit their product description pages and optimize them as per newer keywords and search specific terms, along with enhancing the language and images to make it appealing and informative. Product description when done properly can not only boost the page performance but also maximize conversion.
#3 Catalog Management
Do you know that Amazon invested way more in improving customer experience than in marketing/advertising. Considering the expansive product catalog that Amazon has, it is very easy for shoppers to get lost or have a tough time finding the right product. But the industry giant understands that importance of catalog management in driving customer experience. And therefore, they continually invest in and improve their catalog management to not just ensure they can offer personalized suggestions but also make it seamless for shoppers to search and find the right products.
Needless to mention that ecommerce players need to follow the suit and implement dedicated catalog management resources, as your ecommerce product catalog can make or break the deal. Plus, catalogs are only going to get more creative and informative, players who fail to keep pace with the trend will lose their shoppers to their competitors with attractive, optimized and well-designed catalogs.
#4 Dynamic Pricing
As the market continues to evolve, dynamic pricing will become an essential strategy for ecommerce retailers to woo shoppers and stay ahead of the competition. With no dearth of variety of similar products and their accessibility, even the best quality product would need to be priced competitively for it to be sold.
Competitive and dynamic pricing is a trend that will continue to influence shoppers buying decision in future. Ecommerce players therefore need specialized resources and tools to conduct competitive pricing analysis and derive at optimum pricing based on market/consumer demand, competitors' pricing, and the perceived value of the product.
#5 Visual Commerce
Pinterest, Instagram, YouTube videos, Snapchat and other such platforms are increasingly influencing product search and purchase decisions. We know that retention of visual content is far better than text and in the last couple of years visual content has taken over the ecommerce shopping experience. And as these visual content-based platforms and social media channels continue to increasingly become an important part of our lives – visual commerce is going to emerge as a game-changer for the players who can get it right.
With lines blurring between browsing and shopping, ecommerce players need to invest in image management to power visual commerce and use it to influence shoppers into buying their products. High-quality images integrated across platforms can help customers search for the products easily, improve loading speed and above all leverage visual commerce to their advantage.
From catalog management to writing compelling product descriptions, to gathering and processing high-resolution optimized product images, Springbord can help you at every step of the way. Talk to us today to find out about our range of ecommerce services and how we can help you keep pace with the trends and stay ahead of the competition.